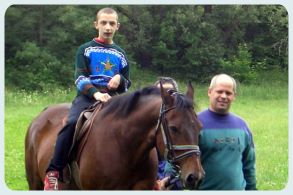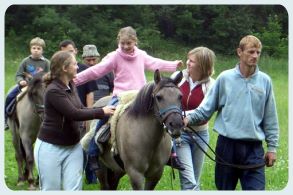 Next door to Elim is a large Children Home full of children and teenagers. Many of these children are there because their parents can not care for them for a number of reasons, (alcoholism, neglect, poverty, the child is handicapped, etc.). Some of these children are orphaned.
One of the first ministers that God gave the Mission was to offer the handicapped children from the Home free horse-riding therapy. (For those that are wheelchair bound this in one of the best ways to strengthen the muscles in the upper body).
This ministries not only helps the children physically, but also gives us the opportunity to show them Gods love and become friends with the children.
Through this Therapy, the Mission has slowly gained the trust of the Children's Home. Because of this, evangelistic programs have been permitted to be held on several occasions in the Home, (often presented by American guests). The Home also gratefully received 80 large picture frames, with Christian sayings and scriptures to hang throughout the Home.
It is our prayer and hope that God will continue to broaden the minstry into the Children's Home in the future.