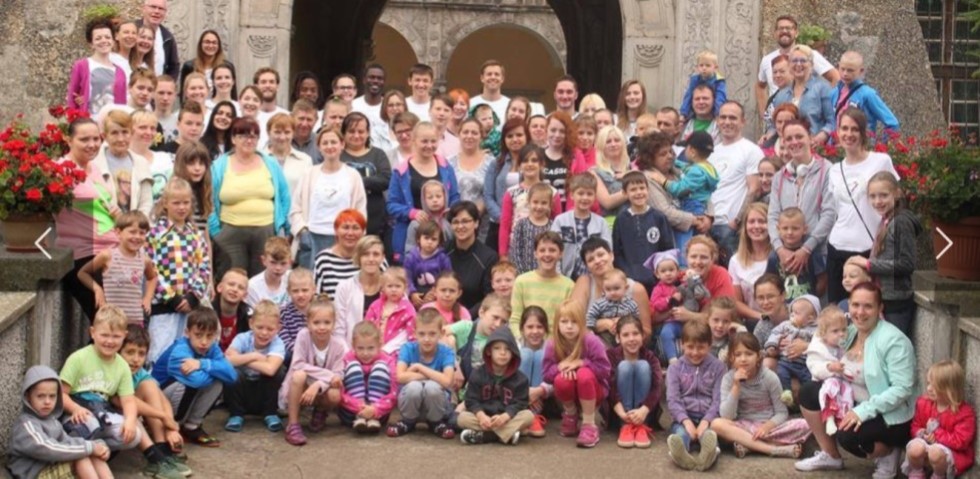 "Give thanks to the LORD, for he is good; his love endures forever."
1 Chronicles 16:34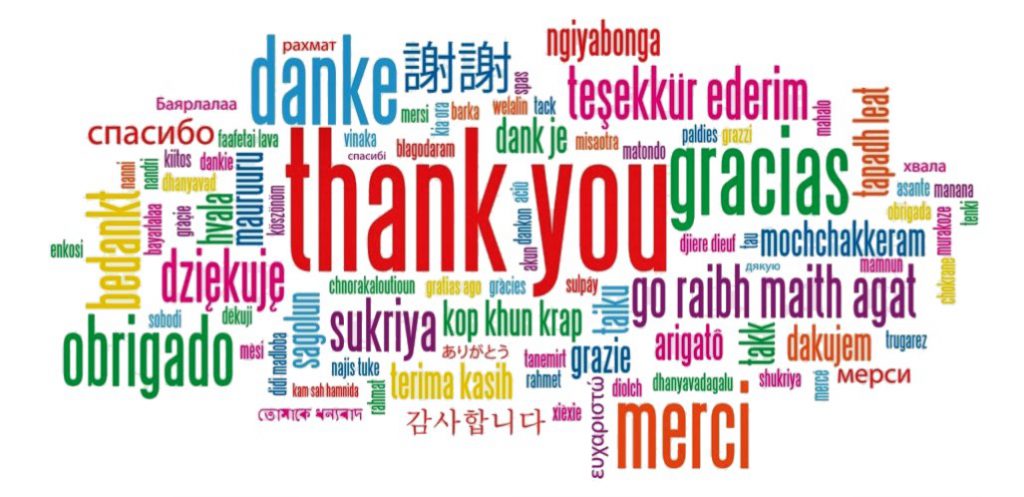 Dear Family and Friends,
How many ways can we say thank you to each of you who have given of yourselves through the years to be used by the Lord here in Poland?   Please know how much of a visual of the 'Body of Christ' it is to see  firsthand how the Lord uses each of us to fulfill His purpose of making Himself known to the nations!
It was a pleasure to just have a Polish group here from Warsaw. Their aim is in seeking to provide material, emotional and spiritual help to those in need. Their current major emphasis is directed toward Families in Crisis.  These are indigent families whose members struggle with traumatic circumstances such as terminally ill children, bereavement, etc.  This group comes here to Elim a couple of times a year, either for spiritual refreshment (this trip) or to bring a larger group of adults and children who are in need of a special touch from the Lord (next month).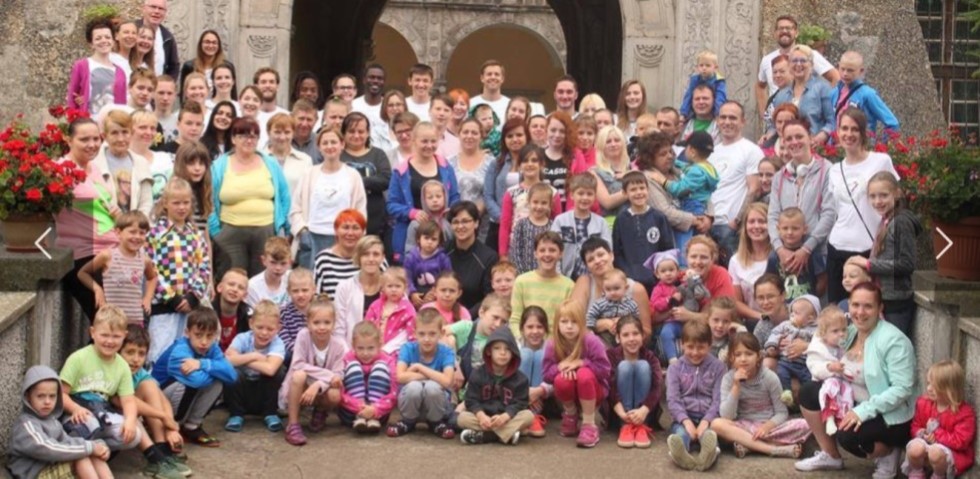 Here is part of an email that was shared with us from the director:
Thank you so much for your warm hospitality once again! We've all had a great time resting, recuperating, and tanking up with the Word of God. A verse I read this morning really stood out to me, and I felt the Lord applying it to this wonderful oasis for the soul that you have set up for others.
"Surely the Lord is in this place…" (Genesis 28:16)
I was also reminded of a verse that I have thought of many times here:
"Others have done the hard work, and you have reaped the benefits of their labor." (John 4:38)
Thank you all, (including the directors who are now in Australia), for all the hard work you've put into creating a place of blessing and refreshing for the Lord's people.
"God is not unjust. He will not forget how hard you have worked for Him and how you have shown your love to Him by caring for other believers, as you still do." (Hebrews 6:10)
It is so encouraging for us to be able to hear how the Lord continues to use Elim in the lives of those not only in our area…but in other parts of Poland (and beyond).    The name 'Elim' was one of the places where the Israelites camped following their Exodus from Egypt. This was the second encampment of the Israelites after crossing the Red Sea. It was a contrast to the previous camp called 'Marah' because of the bitterness of the waters, for there "were 12 springs of water, and threescore and 10 palm trees".  To be referred to as an 'Oasis' touches us in a special way due to it being the very reason we named this mission Elim. Our ultimate desire is to continually be used by the Lord as an Oasis…and that those who come here, who are in difficult times, would be touched by the Lord in a special way and that they would be able to taste and see that the Lord is good!
We are so thankful for the various groups and individuals who come from so many places to serve here at Elim in a variety of ways.  In April we had a group who has been coming for several years now from Holland.  Some of the faces change from year to year…but their Hearts to serve and be a blessing remain the same. Our prayers are that the Lord would show Himself to these young people in a special way (that being 'all' the groups who come and serve) and that some would consider future mission opportunities and all would be encouraged in their personal walks with Christ through their time here and go home and share Him with those who they come into daily contact with .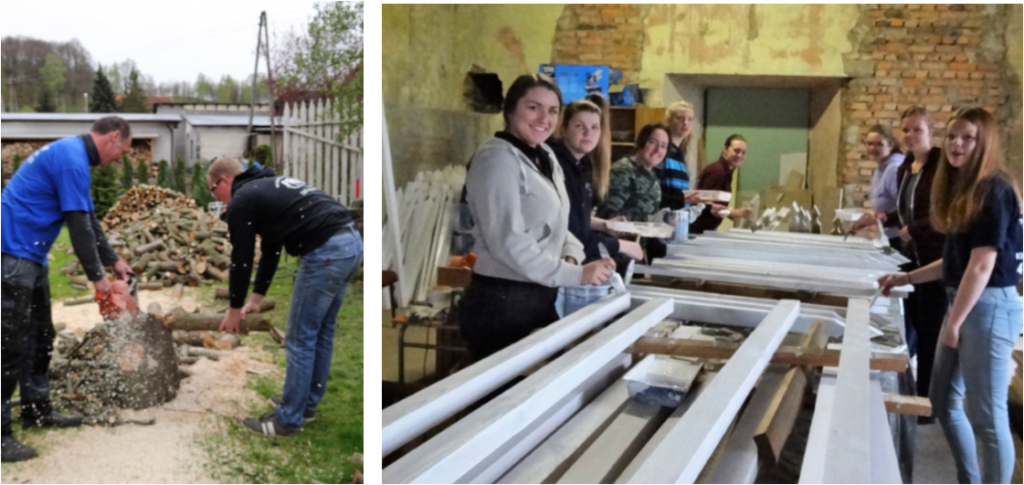 We also would like to say a special thank you to our American Military who are currently serving in Poland.  One of the Chaplains recently brought a group of soldiers to serve here at the mission for the day. Poland has been very welcoming of these soldiers and we as a mission feel honored to have them here offering to serve where they are needed.  Please pray that the Lord would open the eyes of the hearts of those who come to do something 'good' but do not yet know Him personally.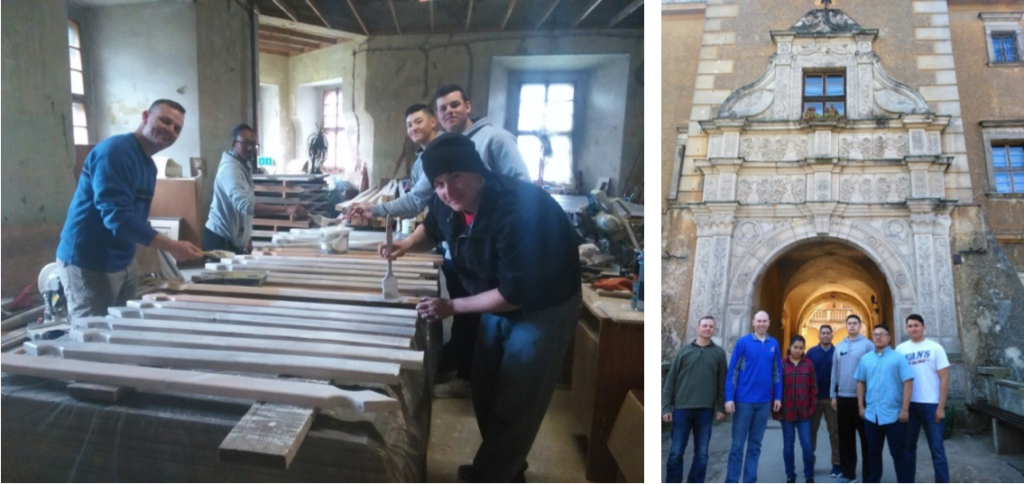 We encouraged the families in church to make their own resurrection garden at home and bring it in on Easter Sunday. Above are 2 examples of what the families were bringing in. What a creative idea in being able to help families focus on the true meaning of Easter. The resurrection of Jesus Christ is the central truth of the Christian  faith.  Without  it  there  is  no  Christian  faith.  Jesus Christ has risen! Alleluia!

With Much love and gratefulness,
The Staff of Elim Christian Mission
Lwowek Slaski, Poland
Facebook group: Hearts for Elim
Praise/Prayer requests:
Please pray for all of the groups that will be coming this summer from Berlin, Belarus, 2 separate groups from Poland, France, a small group coming from the states and 2 groups of American military youth from Germany.  Pray that the Lord would use their time here in drawing each of them closer to Him.
Prayers would also be appreciated for those in the church who are spiritually young and need to grow and mature in their Christian faith. Also the lure of better jobs and money are drawing many Polish people to other countries…and often these people are married and leaving their families for extended periods of time. Finances to take care of one's family is important but often it is more the love of money that is negatively affecting these families.
Marian and Malgosia:
Malgosia's mom (Krystyna) had another stroke and was recently diagnosed with epilepsy.
Marian spine problems and glaucoma in the eyes.
Agatka is at a Christian College in Dallas and got a scholarship for the next year. She will be visiting family in Poland in August.
For the Lord to open the hearts of those in their family who do not yet know Him.
Lidka:
She is currently receiving treatment for some ongoing health issues. She would appreciate your prayers that the Lord would continue to bring healing to her body.
Pawel and Judy:
Their family will be in the states this summer visiting with family, friends and supporters. Please pray for safety and that the Lord would bring them refreshment and special times as a family. Please pray for Rachel and her future. She has one more year of school here in Poland and will be needing to make some major decisions on her future and where she will be going to College.
Please pray for the health of Judy's dad (James) who has Parkinson's disease. Also that the Lord would touch him and show Himself to him in a special way.
Tomek and Gosia: 
Please pray for the Lord's strength, and wisdom for Gosia's final exams in College.
God's daily protection over their children Natan and Emma.
For the Lord's leading in their lives and all of their decisions.
Robert and Aneta:
Are grateful to the Lord for His faithfulness and His care for their family.
Please pray for them over the summer as they run the mission without Pawel and Judy
For Julia's remaining year in school and future decisions for College.