CAMPFIRE & GRILL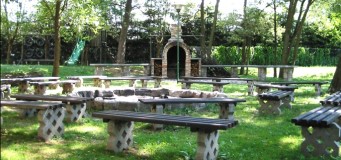 A large campfire area is situated behind the Palace. Wood is usually available for your use and is found behind the BBQ grill. Please help yourself. If you would like a 'large campfire' for your group we are happy to help you organize this. Please just ask the Manager. (Children may not light any fires).
PLAYGROUND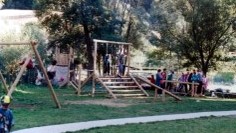 There are two children's playgrounds at Elim. One is in the 'Camp Facility' at the back of the Elim property for campers, and the other is next to the grill area, for the Palace guests.
SPORTS AREA
There are several lawn areas on the Elim grounds that are suitable for large group-sports.
VOLLEYBALL / BASKETBALL COURT
A basic court is situated at the end of the main sports area near the entrance of Elim.
ROLLER-BLADING
Elim has several footpaths on the grounds, which are good for roller-blading. (Some roller-blades for children are available from the Mission).
PING-PONG
There is a basic Ping-Pong room at the Camp Facility, which is open during the summer months.
MINI ZOO
A small mini-zoo can be found next to the main sports area. A donkey, pony, and goats will come to the fence to be fed by children or any one who will give them a little grass or bread. (Please do not enter the animals premises).
GARDEN SEATING
and walking-paths are found all over the Elim land. These are for you and are good if you need a time of quiet reflection.