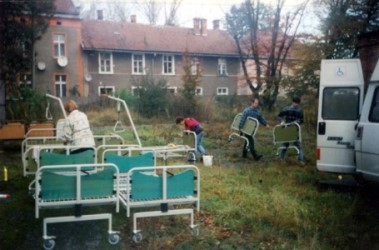 In the process of seeking a wheelchair for a particular girl in the Children's Home, the Lord led the Mission to a farm house in Germany where not only used wheelchairs could be bought cheaply, but also dozens of hospital beds were available to be brought into Poland.
Soon a transport was arranged for the beds and wheelchairs for the Children's Home and the hospital.
It was not long before the word got around that the Mission had the possibilities to help the local hospitals and the handicapped, and so began the ministry in bringing aid to the local community in the name of Jesus.
Since that day, many truck loads of hospital beds and equipment have been channeled through the Mission from other European countries, and recently, even a fire truck.
We see God using these events to make known His Work in this town, and build up the trust of the town's leadership towards His church and Mission. The Town Leaders now request the presence of the Church in many important official gatherings. We see how great God is and how He is using these material things to lift up His Name in this town.
A few years ago, our town leadership would not allow us to bring the Evangelism Bus to their large Festivals. But since the Church has been working closer together with the town, we were not only invited by the town leadership to use the Evangelism Bus, but were once again allotted 2 hours on their festival stage, where we were free to present a Christian program. God is so great.