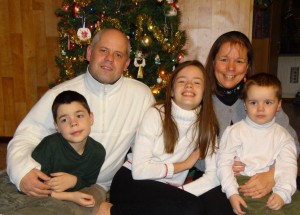 In 1994, after Pawel had come to the 'end of his rope' he came to Elim Christian Center to begin the Alcohol Rehabilitation Program. Since the death of his mother when he was a teenager, Pawel began drinking alcohol (though he never would have dreamed that it would control him one day).
The Lord obviously had his hand on Pawel as he would commit himself to Him and give his desire for alcohol over to the Lord. Pawel would come on staff and faithfully serve the Lord through the various ministries that take place through the mission.
Judy had been in the U.S. Army (Military Police) since 1983. Though she had a good military career, the Lord was working in her heart in the area of missions. Though a difficult decision (though after receiving orders to go to Drill sergeant school made it a little easier) Judy decided to end her military days and in 1992 was officially discharged.
Shortly thereafter, Judy started attending Columbia Bible College in Columbia, S.C. (USA) to major in Bible and Youth ministries. In 1995 she graduated and within the year would be heading to Mannheim, Germany to work with Malachi ministries (Youth ministry arm of Cadence International) to work with the Youth of Military families. A couple of weeks after arriving in Mannheim, she would be going to Poland with the youth to help renovate a Palace that had started a mission a few years earlier. Little did Judy know that her 'Prince' would be at the Palace… and after several mission trips with the youth, some trips with a few gals, and a few on her own… that she would get to marry this Prince who had captured her heart.
Pawel and Judy married in June 1998 at the mission in Poland. Rachel, their honey moon baby was born in March 1999, and Joshua was born in December 2000.
Pawel and Judy are committed to serving at Elim as long as the Lord puts this calling on their hearts. It has been a very spiritually rewarding time serving here as they are able to witness the hand of God on the mission, the families that serve here, as well as those who come through these doors (whether local people or visitors coming from all over the globe). Through both joys as well as hardships it has become evident that God is truly good… ALL the time!