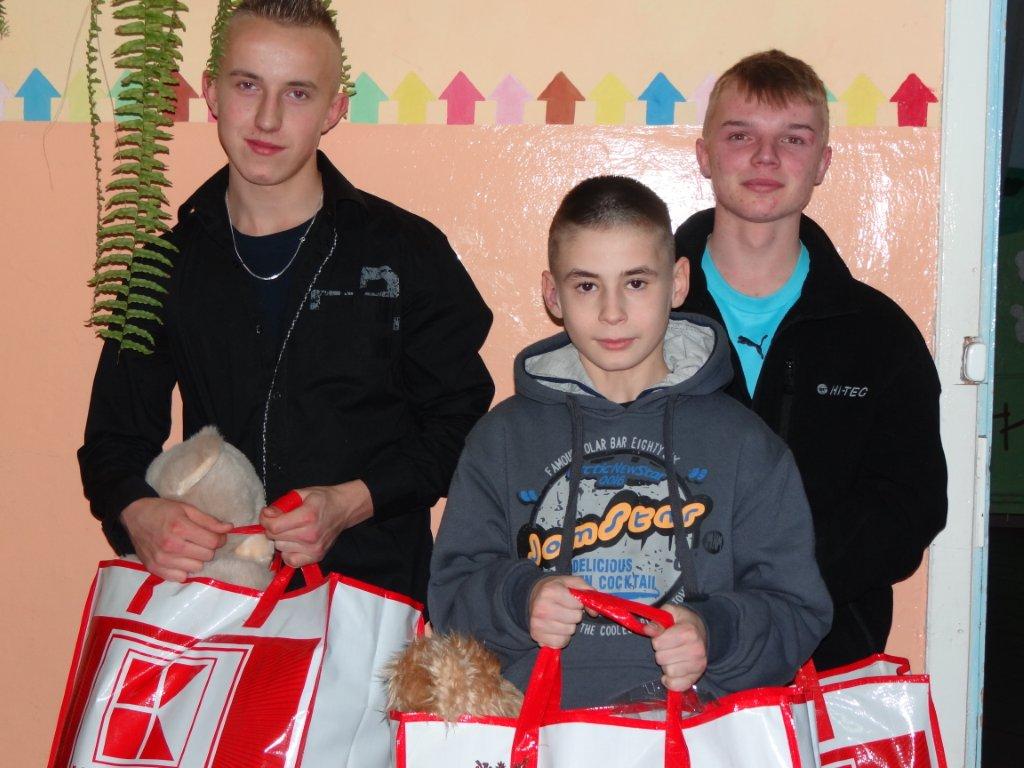 "You will show me the path of life; in Your presence is fullness of joy, at Your right hand there are pleasures forevermore."
Psalm 16:11
Dear Friends and Family,
        Greetings to each one of you from Poland!
     We would like to take this opportunity to thank you for your love, encouragement and support of Elim Christian Mission! It is through your continued, faithful prayerful support, that the Lord is using you to enable us to minister to the needs of so many here in Poland! We would love to be able to take this opportunity to share with you some of what the Lord has been doing here through the mission.
     Here are some of the highlights!  One of the mission outreach ministries is to a group of children who come to the mission each school day for a hot lunch. They are from the poorer of the poor families from around our area. Through the recent Christmas program, it was a privilege to be able to minister to these children (as well as their brothers and sisters) in a special way!  After a program of sharing the Christmas story, singing Christmas carols and drama/dance we were able to continue sharing Christ's Love with them with special gifts (that had been donated from across the border) for all of them!
     After the Christmas  program we were able to meet with the children and their parents for fellowship together . Parents and their children shared with us their thoughts and feelings  about the program. Some parents shared that what their child received that day would be the only gift the child was  going to receive for Christmas.  Some parents  can't  afford to buy presents or little gifts for their kids.  Many of them are unemployed, some receive only minimum pay . Many children shared  that they had dreamt about being invited to this special Christmas ministry!  They said that their dream came true. Praise the Lord for this opportunity to reach out to them
     Some of these children attend Sunday School and/or our weekly 'Mini VBS'  where they are able to learn more about a relationship with the Lord. Our prayer is that the seeds that are sown in their hearts will bear fruit.
     Each year we have also been given the privilege of ministering to those living in a Care Home, the Hospital, a local Hospice and the Children's Home. These institutions are filled with so many people who are lost and hurting…often sick…and some who are dying. We are so thankful to be able to share with them the love of our Lord Jesus Christ who offers them a light in their often dark worlds.
     We would like to share with you about the Care Home ministry,  through a personal testimony shared by Marzena, a lady who serves here at the mission. This is a precious testimony to how God changes us, from the inside out and uses us when we don't even know it to make a difference in hearts and lives with just a smile, a sweet word spoken, or a tender touch: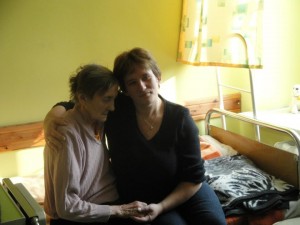 "I have served in ministering in the Care Home since 2005. When I was first asked about serving in this particular ministry I was asking God, why me?!  I said Lord, I don't want to because I don't fit in there. I would rather work with the children than with the old and those who are sick. God however had a different plan and He opened my heart for those people. Each time we go to visit, I always want to go back again. I cannot imagine not going there now because I truly love this place!
Yesterday when we went, the nurse told me that one of the ladies had died and it broke my heart to learn that she was one of the ladies that was really close to my heart, one with whom I had a special relationship. Irena was very loveable among the people there and we were able to share with each other our memories of her.   
Kazia, one of the ladies who lives there, said to me:  You are truly a blessing for all of us here.  I have  lived here almost 13 years  and I gave away everything I had to my son.  Since that time, my son never came here to visit me, not even once.  All of you who come here  and visit us are our family. You are giving us something which our relatives and family have not.  You all give us love, interest, special words and you pray for us . You sacrifice your time and you do not expect anything in return.  We don't know what we would do without you.  When Monday comes we know that you'll come – our hearts rejoice because we know, that you always welcome us with a good word and beautiful and warm smiles. I don't know how others feel about it but I thank God in my daily prayers that He sent you in this place, to us – you are our earthly angels.  Even though my friend Irena passed away, this day was a great blessing for me and I am so thankful He is using me in other people's lives!"
     We have just finished our first cycle of Parents Meetings.  At least 20 parents came regularly for the meetings that meet once a month.  There are many people who attend the meetings: single mothers, married couples  and grandmothers and most of whom do not have a personal relationship with the Lord.  Parents had an opportunity to listen to the lecture about "Effective parenting in a world full of danger" by Chip Ingram. They had a chance to share their thoughts and experiences .  They had an opportunity of putting into practice everything they heard during the lecture . One of the mothers' shared about what she had learned during the meetings, and how she used it in a practical way in her own home.  She shared about how things  were getting better  in her home and of the  many changes happening in her family . She started to have honest conversations with her son and has gotten to know him better along with his feelings and worries.  This was so valuable to her because she did not  know about the worries that  her son was carrying inside of him.

The lectures showed that kids need more than physical needs (food, clothing) and that they need more love and acceptance from their parents. They long for hugs and normal conversation instead of yelling and screaming at each other . While sharing her thoughts  and experiences with the group who attended  the meetings, she hadn't realized how it impacted and changed her life for better. She has a better relationship with her kids and husband. As a result the family got closer together.
We offer child care so that parents can freely listen to the lecture and take part in it. We pray for God to work through the Parents meetings, so that every person attending will learn of Gods wonderful love and plans on how to love their children His way, showing respect, building their relationship and encouraging their kids more. We pray for these parents to have a goal for their children . The goal is to get to know Christ and to walk in His love, teachings and truth.
It was a joy to be able to witness the Baptism of 3 people who have attended church for quite some time.  Too see Albin, Halena and Janek come before the church body and share of their commitment to turn from their old life and to serve the Lord. They have placed their pride and their past before the Lord and have given control of their lives over to Him!  "My life was so empty without God"  Janek, who is 53 years old and from a small rural poor village shares in his testimony before he gets baptized. " My life didn't have any sense until I  met my wife. She told me about Jesus and His amazing love. I have started reading the Bible, and from this day on my life will never be the same again. God has changed my life forever"  
Praise/prayer:
Ken, Giselle and Sarah: 
They are returning to Poland on April 5th after spending several months in Australia. They have left Katie behind as she begins her new life that the Lord has for her in Darwin, Australia. Thank you for praying for them during this time of saying goodbye to their dear children, their wives and grandson.
Tomek and Gosia:
Praise:
We praise the Lord for His goodness and faithfulness. We are healthy and can serve Him with our lives. We praise the Lord because He cares for us and He loves us no matter what.
Please pray:
For our kids' every day safety, as Natan goes to preschool,
For Tomek as he prepares for his teachings every Sunday. We also would love to thank the Lord for giving Tomek His wisdom and power to preach and to lead worship.
For us when we meet with people sharing Good News with them
That God will give us energy, passion and wisdom so we can be God's youth group leaders
Pawel and Judy:
Thank you for your love and prayers for our family!  We would appreciate your continued prayers for our son Jakub who is in preschool, for his understanding of the Polish language. He actually understands it rather well…but is more shy when it comes to speaking it. Also, we are grateful for the growth we have seen in our son Joshua who has Autism. Please pray for wisdom for us in knowing how to best deal with some behavioral issues…and in also knowing how to best encourage and guide him in the path the Lord has for him.
Robert and Aneta: 
Aneta's dad is sick with Cancer and is going through chemotherapy. That the Lord would be working in his life both physically and spiritually. Wisdom for Aneta as she is working with their 4 year old Daniel on potty training. That he would be comfortable with what he needs to be doing.  Julia will be turning 13 (as well as Rachel and Kasia).  Please pray for wisdom for all three of these mission families  for our girls to keep their hearts pure and not to get caught up in the things of the world. That their hearts would be longing to know Jesus better and to be preparing to give their lives to Him.
Lidka:
Has constant pain in her arm most likely caused from a cyst and is in need of an operation.  She had recent dental work done as well and the two could not be done too closely together. Please pray for wisdom for her…as well as a peace and comfort that the Lord will take care of her.
She thanks the Lord for being able to serve here and for the Lord's provisions for her daily needs.
Please continue to pray for her son Arek for his salvation.
Marian and Malgosia:
Malgosia has been going back to finish school and has exams in May. Please pray for wisdom for her to be able to do well. Please pray for her children's schooling as well. Marion's back is not doing well and he is often in pain. Please pray that the Lord will give him the healing touch he needs…or the grace needed to be able to deal with the pain.
Mission requests:
For the parents/children of our un-churched families we minister too: we hope and believe that one day these children and parents will get to know Christ as their personal Savior.
That as 'Elim' represents, through the Lord's grace and leading, that we would continue to be an 'Oasis' to all who come here…whether it be for physical or spiritual refreshment.
     This Newsletter provides  a small window into the types of ministry that the Lord is allowing us all to be a part of. We praise Him for each one of you as we continue to serve Him together to those around us with His love in Word and Deed. Thank you for praying with us toward this goal!
Lots of love and greetings to you all,
In Him,
From all the Staff
Elim Christian Mission
Poland